13 Students Awarded the Libertana Scholarship
This past year has been a profoundly challenging time to be a college student. Between Zoom classes, schedule changes, and considerable uncertainty, students in 2021 have courageously navigated realities that previously wouldn't have seemed possible. All of this is on top of the academic, social, and economic challenges already associated with pursuing higher education.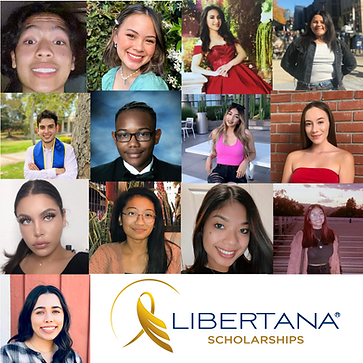 At Libertana, we believe profoundly in the transformative power of education, and we strive to support our employees, their families, and our community whenever we can. Last year, we launched the inaugural Libertana Scholars Program. We're proud to announce that we recently selected the second class of scholarship recipients. We launched this program because we believe we have an obligation to support our extended Libertana family, particularly the children and grandchildren of our dedicated staff.
The Libertana Scholarship awards $1000 and $500 grants to the children and grandchildren of Libertana employees enrolled in an accredited four-year university, junior college, or vocational program. Applicants provided documentation noting their good standing within their institution and penned a 300-word essay about their career goals. We had several returning applicants, which we view as a profound endorsement of the scholarship program.
Over the course of two weeks, an impressive group of students from institutions like UC Davis, Mount Holyoke College, CSUN, Pierce College, Grand Canyon University, UC Irvine, and University of Houston applied for this opportunity. After careful deliberation, the Libertana Scholarship Committee—Felicia Miller, Gabriel Medina, and Mandeep Gardner—awarded 13 Libertana Scholarships to the second round of Libertana Scholars.
This diverse group of 13 students has truly demonstrated a commitment to their higher education and professional goals. They have shown perseverance in the face of this unprecedented moment. We were inspired by our applicants' courage and abilities, and we are honored to help support these inspiring students as they continue to pursue their academic ambitions.
Thank you to all who helped spread the word about this wonderful opportunity—it was only with your help that we were able to support these remarkable students.
As the semester progresses, as we did last year, Libertana will provide updates about our scholars and the great things they achieve. We are confident these students will work hard to improve their world, and we're honored to be able to support them in their journey.