Changing Home Health, One Family at a Time
Since 1994, Libertana has provided valuable healthcare and social services to some of California's most vulnerable population. As a family owned and operated organization, we strive to enhance quality of life, preserve dignity, and meet the health, social and motional needs of community members and their families. Our staff of over 700 nurses, social workers and in-home caregivers serve over 6000 patients annually from Northern to Southern California.
Libertana's services aim to help individuals remain safe and comfortable in the community setting. By offering Skilled Nursing (RN & LVN), Certified Home Health Aide and Habilitation Services, we provider the medical care and supervision that allows medically fragile children and adults to remain living in their own homes. Through our California Community Transitions and Assisted Living Waiver, we find housing solutions for seniors and those at-risk for homelessness in a residential type setting. Libertana has been awarded State contracts to serve as the Home & Community Based Waiver Agency in many California counties. Our services move clients from long-term acute and clinical settings back into the community with the promote health and social supports to promote community living.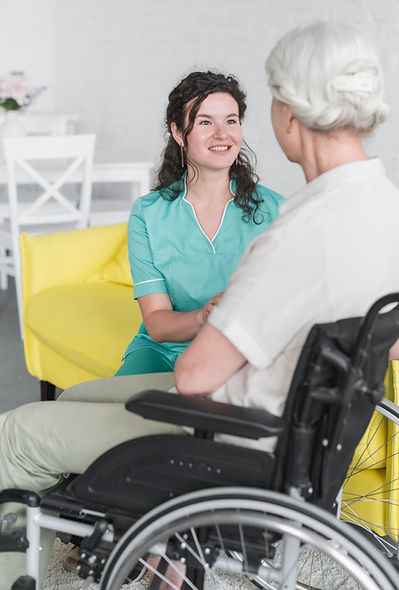 At Libertana, our commitment to care is demonstrated by the promises we make to patients, families and our referral partners:
We promise to only work with the highest quality and compassionate health care professionals and home maker/companions.
We promise to make all decisions based on our clients' best interests.
We promise to be there when you need us.
We promise to assure your loved ones that you are attentively being cared for by someone who is not just carrying out his or her work, but by someone who cares about you
We promise to do everything we can to increase the quality of your life.
Finally, Libertana knows that that quality of care and services can only be delivered from the best employees. We support our staff, value their happiness and help maintain their connection and ongoing commitment to the organization's mission and goals.
What We Do
We offer a viable alternative to institutionalized care with a personal approach, with the goal of enriching the lives of our clients and their families so they can continue to live at home for as long as possible. We are proud of our diverse home care team, skilled in all aspects of caregiving from respite care to palliative care.
We provide healthcare services to both Medi-Cal and private pay patients within the Locations that we serve.
Our services include:
Because many factors are involved in the care of each client, we are careful to address not only your medical needs, but your emotional and social ones as well. That's why we work closely with your physicians to develop personalized treatment plans that will provide you with the most positive and comfortable experience possible.