Libertana Social Worker Achieves the Impossible for His Paraplegic Client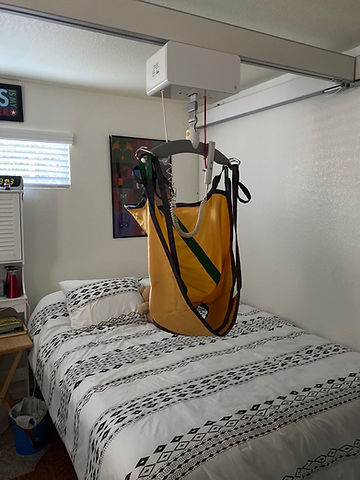 Back in 2018, two parents contacted Libertana Home Health for help with their paraplegic, 9-year-old son. Without hesitation, Libertana social worker Dovid Goldenberg asked how he could be of assistance.
"They really wanted to do anything they could to improve their son's quality of care," said Dovid.
So, Dovid hopped on a plane and visited the family in Santa Clara County. The parents were concerned, explaining to Dovid their son's school was not meeting his needs and failing to provide him with proper accommodations. Dovid directed them to the relevant legal resources, hoping this would suffice, and kept in touch with the family just in case. This past spring, they checked in again.
"The boy's mother said her son was growing, and she and the rest of his providers were struggling to carry him," said Dovid. "They were desperate for help."
His mom knew that as he kept getting bigger, carrying him would become impossible. Dovid suggested a ceiling lift, which could be permanently installed inside their home and lift the boy when needed. There was one obstacle, however—the lift was expensive, and the family needed financial assistance to pay for it. Using his knowledge of the state health care options for financial need, Dovid applied for Medi-Cal assistance on behalf of the family.
"These things are difficult to make happen through Medi-Cal," said Dovid. "The state is very quick to say no. But with enough patience, I knew we could get through."
Rather than accepting a rejection, Dovid got notes from several doctors, a therapist, and quotes from three different contractors. He went back and forth with Medi-Cal for three months, working to secure the proper documentation and submit the necessary forms to help this family in need access a life-changing resource.
"We knew that this would be a difficult process," Dovid said "I said to the parents, 'Please don't give up hope. We can make this work."
Refusing to give up hope himself, Dovid took a chance and wrote an impassioned letter. And then, a miracle happened.
"Surprisingly, it worked," Dovid said.
The state approved the financial aid and now, the parents have a ceiling lift in their home and their son can move around with ease. And, his parents finally have some long needed and deserved relief.
"His mom said their life has been so much easier lately," Dovid said.
Though it was an arduous process to get the ceiling lift, in the end, it was all worth it for Dovid.
"A common consensus is that people get burnt out dealing with social workers," he said. "Things fall to the wayside after the initial consultation. I go above and beyond and try something other social workers haven't. With my job and position, I have the ability to make good things happen, as long as I put my mind to it."