Libertana's Third Year of Scholars and First Year of "Campers"
At Libertana, we believe profoundly in the transformative power of education and supporting the mental health of our community's youth. We strive to support our employees, their families, and our community whenever we can. With this motivation, we're proud to announce two initiatives – first, the third installment of our Libertana Scholars program and second, the launch of our "campership" program that kicked off this summer.
In three years, Libertana has supported the educational endeavors of 50+ students. We launched this program because we believe we have an obligation to support our extended Libertana family, particularly the children and grandchildren of our dedicated staff.
As a refresher, the Libertana Scholarship awards $1000 and $500 grants to the children and grandchildren of Libertana employees enrolled in an accredited four-year university, junior college, or vocational program. Once again, we had several applicants re-apply for the scholarship, a profound endorsement of the impact of our program.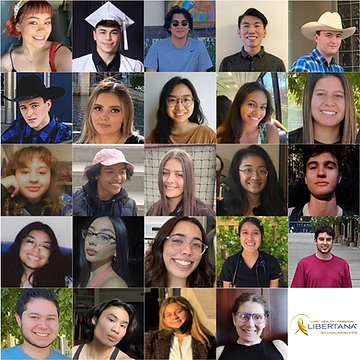 This year, an impressive group of students from institutions like UC Berkeley, UC Davis, Pepperdine University, CSUN, UC Irvine, UC Santa Cruz, CSU Fullerton, CSU Long Beach, and University of Houston applied for this opportunity. After careful deliberation, the Libertana Scholarship Committee—Felicia Miller, Gabriel Medina, Naomi Barrera and Mandeep Gardner—awarded 24 Libertana Scholarships to the third round of Libertana Scholars.
Libertana's CEO Neil Rotter shared, "Libertana is thrilled to award this passionate, driven class with scholarships. This initiative reflects Libertana's commitment to providing our dedicated employees and their families with resources to pursue continued education and professional ambitions."
This diverse group of 24 students has truly demonstrated a commitment to their higher education and professional goals. We were inspired by our applicants' educational commitment and abilities, and we are honored to help support these inspiring students as they continue to pursue their academic ambitions.
Building on the success and impact of our scholarship program, this summer we subsidized 25 summer camp experiences through our new "campership" program. The initiative aligns with our commitment to prioritizing the mental health of employees and their families by ensuring opportunities for normalcy and growth during the pandemic.
The 25 "camperships" provided a $250 stipend/scholarship/grant per child to put toward attending their camp of choice. The recipients, aged 5-16, selected a variety of summer camps with activities including tennis, dance, parkour, cooking, camping, water sports, academic enrichment, cheer, baseball, taking care of zoo animals, art, and more.
"Due to COVID, kids spent the last few summers at home instead of playing outside with friends or creating lasting memories at summer camp. As we emerge from the pandemic, we recognize the importance of connecting children to summer enrichment programs once again," said Libertana Chairman Jonathan Istrin. "We at Libertana believe in the power of summer camp and recognize the importance of creating avenues of access for families after several difficult years."
As we close out summer, and head into fall, we're proud of the success of our inaugural "campership" program, and eager to see our third round of scholars begin the school year. We remain committed to provided excellent home health care while supporting our valued employees and their families in their development and educational endeavors.