Meet a Libertana Scholar: Kaylee Villalobos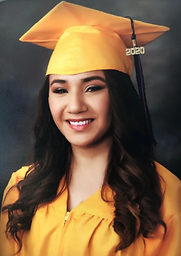 In 2020, we had an incredible inaugural group of Libertana scholars. Meet Kaylee Villalobos, an inspiring, driven, first-generation student studying biochemistry at UC Davis. We're so proud of Kaylee and can't wait to follow her future endeavors.
We also want to send a reminder to be on the lookout for the next round of Libertana scholar applications. We will be announcing the details soon. We can't wait to continue to build on this inspiring program and support more incredible students in our Libertana family.
How does your relative at Libertana inspire you?
My mom is my biggest inspiration. She helps those who are in need and has inspired me to do the same. She cares for them, listens to their stories, and makes them feel that they are not alone. I highly admire those qualities because she does not view them just as a person but also as a friend, and I hope to do that with my work one day. She inspires me because the way she treats the people is so lovely. When I become a pediatric neurologist, I will make sure my patients are cared for and feel welcomed, just as my mom does.
What specific goals do you have for post-grad, and what motivates you to pursue those goals?
The specific goal I have for my post-grad is to be accepted into a good medical school. By achieving that, I will be getting closer and closer to my dream of becoming a pediatric neurologist. What motivates me is knowing it will all be worth it in the end because I'll be able to help children. I am motivated by knowing that I may be able to give people hope when they are going through a hard time and by knowing that this will not be seen as a job, but as a magnificent life.
Where do you see yourself in 5 years? In five years, I see myself in my first year of medical school grasping the concepts of what the rest of my life will consist of. I see myself striving to do my absolute best and creating memories that I will look back on and value even more once I achieve my end goal. I see myself being proud of proving those who believed in my right and appreciating where I am in life. In five years, I see myself being successful.