Two Outstanding Liberatana Employees Provide Exceptional Care Through Project Roomkey
At the onset of the pandemic, California established Project Roomkey. The initiative was launched to provide housing to elderly, disabled, or individuals otherwise at greater risk for contracting Covid-19 and are currently experiencing homelessness. The program utilizes vacant structures, like hotels, to provide temporary housing for those in need of shelter. A lack of housing is a seriously precarious position, especially during a deadly pandemic that spreads in public spaces. Project Roomkey was established to ensure the most vulnerable members of our community can have a roof over their heads and resources to help them with daily needs.
Libertana has proudly partnered with Project Roomkey to enhance the services provided at Los Angeles County locations. In the fall, we highlighted our partnership with Project Roomkey and are providing an update to Liberatana's continued involvement in the program.
Two inspiring Libertana employees, Princey Hartman and Robin Long, have passionately provided excellent care to their Roomkey clients. Hartman and Long sat down with us to chat about their experiences so far. In our conversations, they touched on some challenges and highlights when working with Roomkey clients, and hope for the future of the program.
While their length of experience at Libertana varies (Princey has been with the company for 16 years and Robin for 2) their shared passion for serving clients, commitment to compassionate and humanizing care, and deep consideration for client sensitivities were all apparent throughout our conversations.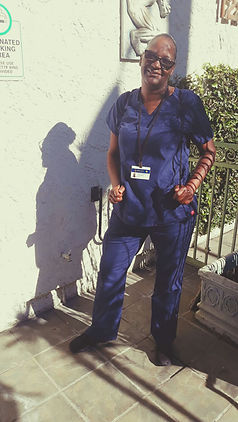 Princey shared that she believes serving others with respect and dignity is "truly my calling".
She talked about the importance of personal connection and making clients comfortable, particularly since "many don't have family out here." Princey's focus on interpersonal relationships and prioritizing the needs of clients clearly has made an impression on them, as many of her clients "call her a jewel."
When asked what one of the biggest challenges she faces is, Princey said that many clients "have an inherent lack of trust, due to their complex and often traumatic experiences while homeless." Because many clients have trust issues and aren't familiar with trained professionals available to attend to their needs, Princey prioritizes building relationships. She focuses on empowering her clients by letting them come to her with requests, and by displaying consistent patience.
Robin leans on her deep belief in the power of love to overcome challenges. Even when faced with precarious health situations or limited resources, she greets everyone with a smile and constant warmth.
Given the variety of challenging situations, surely Robin must have a secret. When asked, though, she humbly deflected, and said she grounds her professionalism in a commitment to humanitarianism and that if "she's not giving 110%, she's not giving her all."
Robin focuses on treating her clients with respect and humanity, "the key is to make people feel loved and treat them as individuals, I'm driven to help people no matter what their current situation is."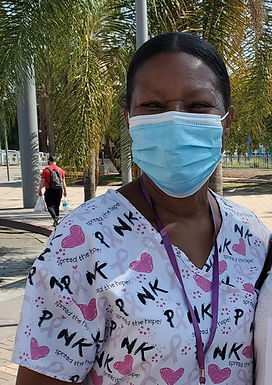 Through their firsthand experiences with Project Roomkey, both Princey and Robin were resolute in their confidence of the program's impact. Both shared heartwarming stories of clients who have successfully transitioned from the temporary housing provided through Roomkey, to more permanent housing situations. While the pandemic was the impetus for Project Roomkey, they'd both like to see the program continue even after the pandemic abates. There's a profound need to do more for the homeless, and this program has shown what's possible with resources and prioritization.
Princey and Robin have excelled in their respective roles and have both been recognized by Project Roomkey management for their outstanding commitment to client care, professionalism, and leadership. We're proud to partner with such an impactful initiative and beyond thankful to our irreplaceable employees, like Princey and Robin, who continuously go above and beyond for clients in need.