As LA Reopens, Let's Get Outside!
We can finally see the light at the end of the tunnel. As Covid-19 vaccinations continue to rise and cases decline, "normal" life is on the horizon. At Libertana, we are particularly looking forward to the reopening of our favorite destinations in Los Angeles. We can't wait to see the sights, smell the smells, and once again foster connections to build a stronger community through collective experiences.
Below, we outline the re-opening plans for some of our favorite LA destinations. We can't wait to see you all in person soon!
1. Disneyland
What's LA without the "happiest place on earth"? Luckily, their doors will soon open to visitors. From March 18 through April 5, Disneyland will partially reopen for their limited-capacity ticketed event, "A Touch of Disney." Disney fans will be able to shop at stores and enjoy eateries around Disneyland, including the California Adventure Park. The event will feature "bite-sized" versions of fan favorite food and a new soundtrack of "re-imagined" Disney songs. Your favorite characters will also be in attendance!
Tickets go on sale on March 4th. Go to their Facebook page (@DisneylandAP) to stay up-to-date on the latest. We'll see you on Main Street!
2. Los Angeles Zoo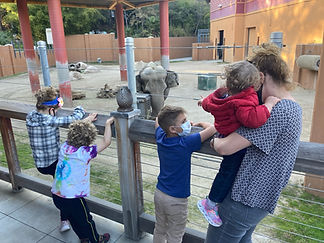 The Los Angeles Zoo is officially reopened! Advanced online reservations are now required after the zoo closed in December due to the statewide regional Stay at Home Order. Limited capacity, social distancing, and other safety protocols are being enforced to ensure an enjoyable and safe experience for all visitors.
Angelenos can now buy tickets and make reservations by visiting the zoo's website. To learn more about their reopening, go to lazoo.org/reopening. If you visit, just remember to keep a Zebra's distance apart!
3. Six Flags Magic Mountain
Who doesn't love a stomach-dropping roller coaster or delicious funnel cake in the warm spring and summer months? Six Flags Magic Mountain has announced that they will reopen this spring. While a specific date has not yet been chosen, the spring season runs from March 20 through June 20. The Valencia-based park is excited to welcome back visitors. Who's ready to go on the Full Throttle?
4. Dodgers
The coming of spring signals an important Angeleno annual marker…it's Dodger season! Luckily for Dodger fans, the defending World Series champions are working with state officials to allow fans to attend their first home game of the 2021 season. The home opener is scheduled for April 9 against the Washington Nationals. Team president Stan Kasten said in a video, "I hope, by opening day, we are finally going to have some fans in the park. I don't think it will be a full stadium just yet. But I do believe sometime during this season, the way things are looking, we will have a full stadium again." We hope Kasten is right because we miss our Dodgers.
The league's health and safety protocols mandate socially distanced seating as well as mask wearing. As of now, temperature checks or proof of Covid-19 test/vaccination are not required.
5. So Much More!
Don't forget that plenty of other fun and safe activities remain open to the public. Restaurants, wineries, and breweries are all open for outdoor dining. While the indoor spaces of museums and galleries remain closed, their outdoor areas and shops are open. Explore the natural side of Los Angeles by heading to one of the area's beautiful beaches to sun bathe, or plop down at one of our many parks for a picnic. And if you're in the mood for some outdoor exercise, take on the many hiking trails that remain open.
If you're a cinephile, you can catch a movie at a drive-in movie theater. Or for the culinary inclined, check out your local farmers' market and stock up on ingredients.
These activities and many more have opened while adhering to Covid-19 guidelines, so get out and enjoy all the city has to offer!
And finally, we want to give a profound "THANK YOU" to all the essential workers, health care employees (especially at Libertana) who've worked tirelessly over the last year to get us to this point. We've all been in this together, but essential workers and health care employees should be effusively recognized for their bravery, professionalism, and commitment to keeping our community safe and healthy through this unprecedented time.